Why Instagram?
Instagram is a mobile social media platform with 48.2 million millennial users and is experiencing double-digit growth as more than 51% of social network users are expected to use the platform by 2017. Social Networking Sites are seen as key marketing assets and have changed the way consumers interact with brands. Instagram is particularly attractive due to its large emphasis on visuals that work well for marketing, especially fashion brands. It also has the potential to reach very specific and passionate interest groups, allowing for visual story telling as a business, person, and marketer with ability to target those specific groups.
Now that you know "Why Instagram", what are my next steps?
Think of joining Instagram as entering an international market, Yes, the overall goals and product is relatively the same, but things need to be tweaked for this new market. Now think of each new Social Media platform as a new country, you don't just go in there and continue business as usual. It takes planning, strategizing, and execution to successfully navigate a new international market. Being first to the new market doesn't mean success, it is far better to plan and know exactly what is needed. In the same way, sampling take a social media strategy and applying it to a new platform without taking all the unique factors of that platform into consideration will leave you disappointed with your results. As your company continues to grow, the market continues to change. If history is to be repeated, Instagram is just one of a long list of social media platforms that slowly evolves from social to sales channel.
Simpson and Thorpes (1996) created the PLIN model for "strategic considerations for international retail expansion". Lets take a look at how their model could help us further understand Instagram strategy. It's not too late to re-evaluate your Instagram strategy and think of your current profile as a blank slate. Take this mindset for Instagram and beyond.

Product: each product should be unique and a point of differentiation. No one will come to your profile, if you are selling the same items, at the same price, in the same way , no matter how great your Instagram is. Your product is important , but not the focus of this report so for all intents and purposes we will assume your product is where it needs to be.

Lifestyle: Match between unique environment, promotion, sales, and merchandise with the target customer group. Balancing sales objectives and engagement objectives is hard as the social team often takes on objectives from other departments within an organization and must balance their aesthetic and brand equity objectives with sales, promotions, and other areas.

Image: Attribute that is formulated in the mind of the consumer the status and personality of the company. Image is probably the most important aspect, the images you use on your profile impact your brand image. Follow some of the best practices highlighted in this guide and adapt them to fit your brand voice and aesthetic.

Niche: Fill a gap in the competitive market. Your Instagram needs to have a unique, authentic voice. If you do not have the content to do this, work on building up a library of content and wait to implement your strategy. With information overload, and all the digital noise on Instagram, your content needs to stand out and really hit home with your core audience, make sure the tone and content fit into your niche target market. If it gets too generic or broad, you could loose that important niche.
*PLIN is used for international expansion for fashion companies, although some of the concepts work for social media, we are not trying to adapt it for social media, simply use it as a tool to get social media managers to view the topic from a new lens. It is so easy to get stuck looking at it from one perspective, and to get the most out of this guide, the reader needs to open their eyes to a different perspective.
Users engage with Instagram post by brands in different stages, making measuring ROI tricky.
It is important to note that users engage with Instagram posts by brands in different stages and it's nearly impossible to measure engagement in simple terms of likes, comments, and views. Be wary of measuring success simply on number of likes, it's very misleading for brands and individuals. 91% of survey respondents said they see brands post on Instagram but do not like or comment and 55% take a screen shot of a post and message to a friend. This means likes and comments are not as they appear and engagement means more.

Only 8% Direct Message a brand. This feature is underutilized and even with Instagram stories attempting to get users to actually use this feature, it should not be a key strategy. If you are currently using it as such, find an alternative.

Millennials age 21-24 were less likely to engage a post but more likely to see it! Getting them to interact is harder than their older 25-29 year old counterparts and take this into consideration when evaluating metrics.

Users who have posted with brand hashtag or image were proven to to be more engaged as a whole. Make specific tactics based on level of engagement to properly allocate resources and time to the most productive areas.

To get a better idea of how your posts are doing, have objectives and audit them regularly. You will also want to conduct an ongoing analysis through viewing metrics you have available and tracking KPI's.
That is all well and good but, how do you create content your audience wants to see?
Watch what your audience does, then recreate that.
This means Go where your audience goes and post like your audience posts. If they use text talk or emoji's, mimic that in your captions. Trends to look out for use of plush fabrics and textures, "Show & Tell", "Millennial Pink", Hyper Pastels, videos, and Monochromatic posts. If they are all reposting the same Snapchat filtered face on their Instagram's find a way to incorporate it in your own feed or story.
Building Brand Equity is your first priority.
You need to create Original, Fresh, and Diverse content! Utilize User Generated Content to encourage engagement, and help the audience resonate with the images. If its someone just like them (a fan of the brand) they will feel more connected! In addition to user generated content you should mix in Inspirational posts that feature beautiful or well curated images as a main reason fans will follow you is to get
You are ultimately trying to build a community.
So see what interest your fans and try to engage with them on a personal level, get them to share peer to peer to build community, and collaborate with brands to work together and create an action. By working with another brand or influencer, both brands grow.
Capitalize on subgroups.
Capitalize on subgroups by creating multiple Instagram accounts based on product offering, interest, geographical location, or lifestyle interest. for example @BrandAustin, @BrandMens, or @Brandfitness . This creates a way to target the interest of specific markets, and help foster a community within your followers as well as creating more touch point for the brand to the consumer without over saturating a consumers feed which leads to disengagement and worst of all, unfollowing.
Keep a perspective of balance.
Overall keep a perspective of balance. Make sure your objectives or goals of an aesthetically pleasing feed and sales objectives are equal and one part does not overtake the other. Balance is also important in the content. Try to utilize images that mix inspiration, and other types of posts because too much of one thing is boring and will lose your audience.
Ban Promo post!
So you can't really ban all promotional posts, but you get smarter with how you do it. As the data shows, some fans were interested in seeing a discount, but when brands use compelling lifestyle imagery and post sales content in the caption the consumer feels less frustrated by the promotion. No one wants an ugly feed, and if you have to post sales promotion material, make sure you keep it to a minimum, and delete it after its useful life has expired.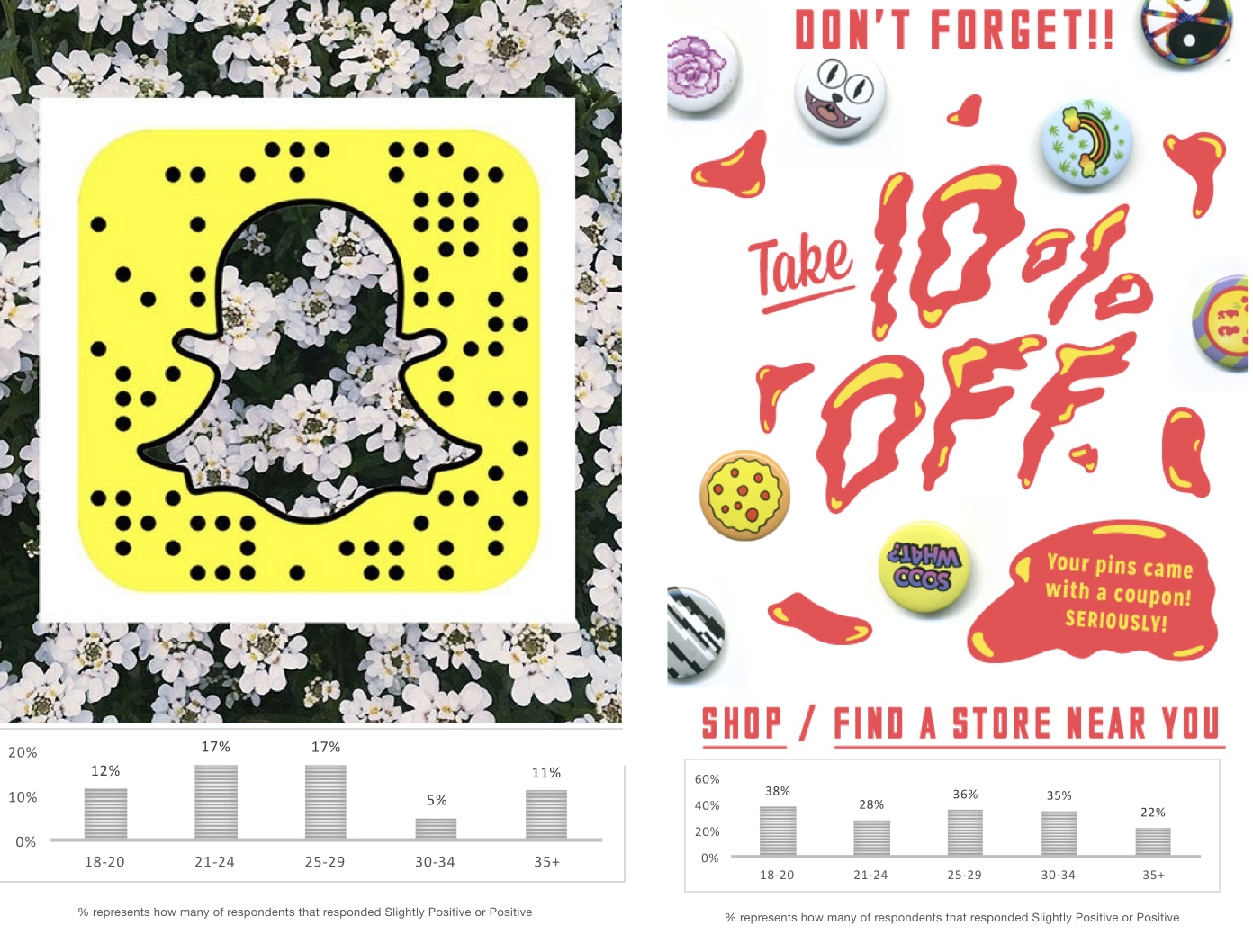 Product photos ripped from the e-commerce website are easy, and you want to show off your merchandise, but users do not appreciate it, especially those youngest Millennials. Find alternatives such as flat lays or lifestyle product shots to show off multiple products at one time, but for best results show clothing on models (whether they are fans (UGC) or paid). It helps users tell the fit and silhouette as well as visualize themselves in those items, and hopefully creating a desire for that product.
Transition from social to sales as you are marketing on Instagram to ultimately make money. Keep it as organic as possible by limiting ads, limit promo post, and don't take short cuts. Test, evaluate, plan and weigh benefits vs cost before changing your strategy.
As the graphs show, some fans were interested in seeing a discount, but when brands use compelling lifestyle imagery and post sales content in the caption the consumer feels less frustrated by the promotion. No one wants an ugly feed, and if you have to post sales promotion material, make sure you keep it to a minimum, and delete it after its useful life has expired.
Transition from social to sales as you are marketing on Instagram to ultimately make money. Keep it as organic as possible by limiting ads, limit promo post, and don't take short cuts. Test, evaluate, plan and weigh benefits vs cost before changing your strategy.
Here are a few Goals/Milestones to help you gauge where you are in your Instagram Strategy.
So you have your content strategy, you have your Instagram up and running, how do you get good photos? Check out my quick guide to take Iphone pictures worthy of your brand's feed.
1. Lighting:
- Set focus and exposure for clear, well-lit photos
- Try natural light if possible in the morning or evening when sunlight is less harsh.
- Lock the focus using the AE/AF lock feature on the iPhone camera
- Use the exposure slider to get the perfect amount of light
- don't be afraid to play around with flash, external lighting, and natural light.
2. Styling:
Think about the story you are trying to tell through the photo
- Use simple backgrounds that make your subjects pop
- Use attractive props that enhance the story of the photo
- Look at it with the naked eye, and through the lens to get a feel for how it looks
- don't be afraid to copy a photo layout you like to get a feel for how to style something
3. Shooting:
- Shoot between 9-11am/4-6pm for soft, diffused natural light
- Use a reflector to increase light in your scene
- Switch on the grid on your iPhone for better composition
- Use the Rule of thirds to compose interesting shots - Take the photos in the actual camera app, not a third-party app such as Instagram
4. Editing:
- Use the Snapseed app to edit your photos, or one of the other apps listed.
- Intensify the colors in the photo with the saturation tool
- Use the healing tool to get rid of dust in your photos
- Use the same filter to maintain consistency in your photos
- use the same image size to maintain consistency in your photos.
- feel free to play around with different white boarders to create an interesting feed
5. Export:
- Shoot photos in "Photo" mode for more flexibility during editing
- Save photos and export in full-resolution for high-quality
- Use iCloud or Dropbox for storage
- Don't text your photos to yourself, as this reduces image quality.
Helpful apps
Priime, allows users to copy and paste their editing technique from a single photo to a collection of photos, enabling them to have a consistent aesthetic across their imagery.
VSCO Cam's main function is to edit images but the app's layout was recently updated, bringing more attention to social functions.
Snapseed was acquired by Google in 2012. This filter app enables you to edit photos using its HDR filters, and share across other platforms. service to create imagery on par with work by professional photographers.
Afterlight offers 74 adjustable filters, 78 textures and 128 frames available to iOS devices, and 59 filters, 66 textures and 128 frames to Android devices.
BLACK is an app that acts as a black and white film emulator. This free, simplistic editing tool permits users to swipe left or right to access different variations of pre-created filters that were inspired by and developed to resemble traditional black and white films.
Whitagram allows users to access traditional editing mechanisms such as brightness adjustment, as well as play with the background border by adding one of the many color options to their photo.
A Color Story offers more than 100 filters which enhance the colors of an image, along with 40 effects that work to tweak the lighting, angle and more, and over 20 tools for minor final touches. A Color Story also allows users to make custom filters and save them for future editing purposes.
PRIME tells you the best time of day to post for your audience. Its powerful algorithm processes hundreds of thousands of data points to determine when your followers are online, their activity, their relation to you, and, ultimately, when you should be posting to Instagram.
LATER helps you schedule your Instagram Posts out well in advance.
Word Swag Easily allows you to add text to images.
REPOST App lets you repost other's Instagram images, while still giving them credit.